Another Extension for all Caregivers Until October 2021 Regardless of Visa Status.
Read more
Caregiver: A Filipina Granted A Special Visa in Australia to be with her Family
The iSavta Team | 12.11.2019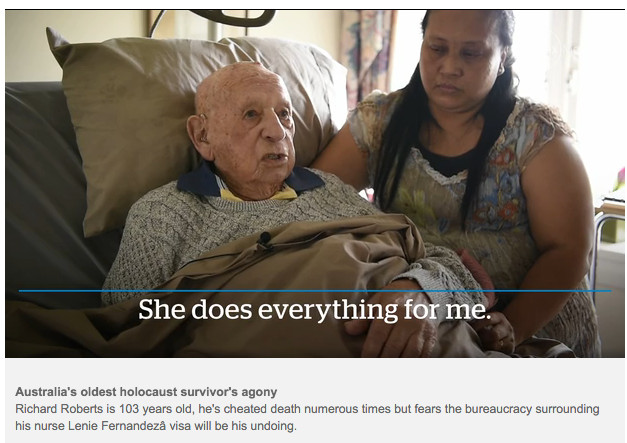 A 43 year-old Filipina Caregiver named Elenita "Lenie" Fernandez entered Australia as a tourist 9 years ago. She worked as a caregiver/household helper to an Australian Elderly named Helen Roberts. Before her death in 2008, Helen asked Lenie to take care of her husband Richard Roberts when she's gone. That was her dying wish which Lenie fulfilled up to this day.
Richard Roberts is a 103 year old Holocaust survivor. He spent years in Buchenwald and Dachau concentration camps before he went to Australia in 1938
Lenie became Richard's caregiver and according to him, Fernandez ran his house and he trusted everything to her. But, Lenie has to go home to the Philippines to be with her family. It will be her daughter's 18th birthday and she needs to be with her.
After a long disputes with the Australian Government, she was finally granted a special visa by the Australian government to visit Philippines to be with her children. She flew to Manila last April 17 for a 2 weeks vacation.
The dilemma was, if Fernandez chose to fly home without special visa, she might not be able to return to Australia. She was given another option to renew her visa to prolong her job with Roberts but the possibility of going home to the Philippines is very slim.
Fernandez appealed for this visa since 2015 but it was only granted last April 14 2016 when she and her lawyer went to the Department of Immigration office in Parramatta and was given a special visa.
The issue about her not being granted a special visa by the Australian government caused a stir in social media and an online petition drew about 18,000 signatures.
"We can confirm that the visa was granted but cannot comment any further," a spokesperson of Peter Dutton, Immigration Minister said.
The sacrifice of a mother for her children cannot be bought by any amount of money. That's given. But, the dedication of a Caregiver to her job and the love that he/she wants to share to the person that she cares about is also priceless.
People will sometimes questions an OFW motives on why she would spend years of taking care of others while being away from her loved ones. It is not actually a choice. It is a NEED to alleviate the lives of the people we care about. It is a sacrifice of a CAREGIVER who spent days and nights to take care of a stranger while carrying the sad truth that, they cannot take care of their loved ones at home, especially their parents or their children.
No one can understand that except us, the Caregivers abroad.
Photo courtesy of Inquirer.net