Another Extension for all Caregivers Until October 2021 Regardless of Visa Status.
Read more
Featured Story: Manu's Inspiring Story as a Caregiver
The iSavta Team | 12.11.2019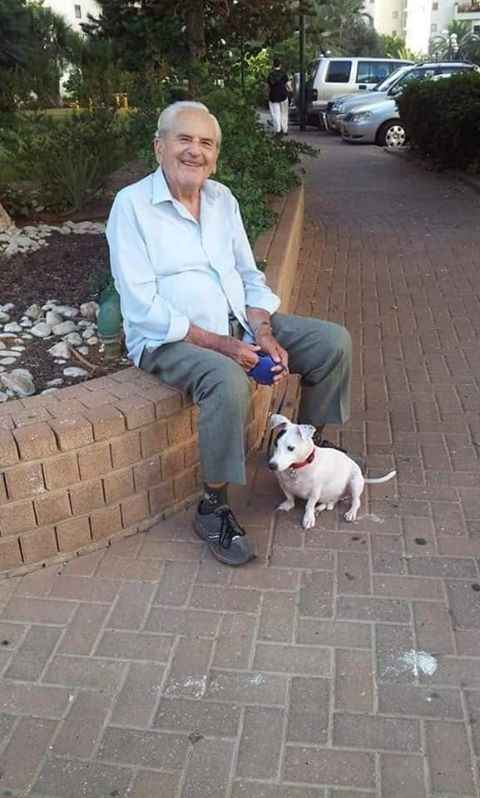 Sometimes, a special connection between people is not bonded by blood but by heart. When Manu came to Israel, anxious about his future in this strange place, Joseph and Yonathan welcomed him with open arms and let him feel at home. It was a special relationship that even death and goodbyes will not be able to destroy.
Read Manu's story as he tells us what it was like to be a Caregiver in a place where uncertainty is common. I hope you enjoy our featured story today.
---------------------------
"Death leaves a heartache no one can heal. But loves leaves memory no one can steal"
This is the best words that i can write for my great employer, Mr. Joseph Zlontik. Still you and our little prince, Yonthan live in my memories. Yonthan, I miss you and I love you our precious little dog.
I came to Israel to seek better chances for future, as a caregiver. As new I was basically new to this country, I was totally a bit tense about my job, wondering about employer's nature and personality, whether I'll stay or not. When I came to my employer's house, that was the first time I meet Yonathan, my employer's precious little dog. I was surprised about the dog was able to live in the house like a human being, like a King.
After a few seconds, Mr. Joseph came out to meet me. A man with golden eyes. I introduced myself to him and called him "Sir." Right there and then he told me not to call him Sir but instead, call him Joseph or Yoseka.
It was quite a relief from the tension that I was feeling when I came in. I believe in that moment, that I am in a good place and we are going to have a very good working relationship.
The dog Yonathan also started to get along with me. It became so attached to me that it even started to sleep with me.
My work with Joseph turned out to be awesome. It was like I'm vacationing in Israel and not working at all. From 2015 until 2018, my life with Joseph and Yonathan was amazing. We travelled a lot all over Israel.
I saw how Joseph love the dog Yonathan. I myself even started to love the dog. I remember Joseph telling me "Manu, you are like a brother to me. Please stay and keep the dog happy". Sometimes, I feel like I am actually working for the dog and not for Joseph.
The darkest moment of Joseph's life came when his health started to deteriorate. He was confined into a wheelchair because he cannot walk anymore. It was a difficult time for Joseph. But, I and Yonathan did our best to make him happy.
Joseph always reminded me about keeping Yonathan happy as it will also make him happy.
After 3 long years of living our lives in that situation, Joseph was admitted to the hospital. It was June of 2018. I couldn't believe that it was his last days until the doctor came and explain to me his situation. I couldn't bear to live with the reality that sometime soon, Joseph will be gone.
One day, when I get back from the hospital, I saw Yonathan waiting for Joseph to come home. I would always find the dog sleeping under Joseph's bed.
July 3, 2018 came and it was a dreadful day for me. Early in the morning, Joseph was looking for Yonathan. The dog's name was the last name that came out of his mouth. Eventually, Joseph, my Yoseka, left this world forever.
I felt the pain and I wanted to cry but I did not. I remember Joseph always reminding me saying, "Don't cry for anything. Keep your heart strong like a soldier."
I didn't cry. I had to be strong. I want to honor Joseph.
With the help of Joseph's friends, we were able to find a kind-hearted woman to take care of Yonathan. I know he's in a safe hand.
After a month, I left the country. I tried to move on from this sadness as I care too much for Joseph and Yonathan. I tried to be strong but sometimes I fail for I miss them both so much.
As I've said earlier, Death leaves a Heartache no one can heal. But love leaves memory no one can steal.
As for Joseph and Yonathan, They will always be in my heart forever.
This is my story. I hope it will inspire other people. Thank you for giving me chance to tell it.
Always, Manu
Read more about Life Overseas