iSavta Blog / Local Events / Hisorai Taplaya: What She Went Through
Hisorai Taplaya: What She Went Through
The iSavta Team | 12.11.2019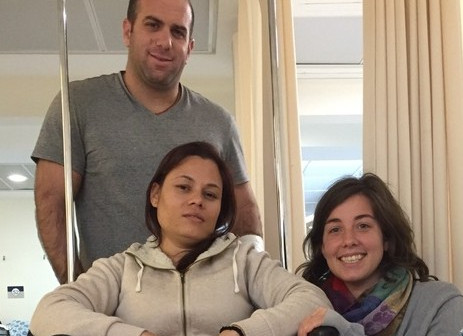 Disclaimer: These article was based on the reports conducted by NRG. Any unconfirmed details on this article is solely based on reports from NRG and Arutz Sheva.
Hisorai Taplaya did not expect that things will get worse after she was stabbed by a terrorist on a Sunday morning while she was in a bus station in Jerusalem.
According to reports, Hisorai was discharged from Shaare Zedek Medical Center a day after the attack despite of the fact that she still had unbearable pain, cannot walk on her own and cannot take care of herself alone. "I cannot prepare food or go to the bathroom alone", Hisorai said.
Because of these circumstances, Hisorai was brought back to the hospital the next day and was released after the treatment. But, until now, it is still not accounted by social services and she still not recognized as victim of hostilities.
"I do not feel good and I cannot manage alone. They told me to go home but I cannot walk alone. I needed a wheelchair", Hisorai told the NRG reporters when they interviewed her.
"The daughter of my employer came to get me. I got home at night and could not sleep because of the pain. I also had fever. The next morning, I woke up and my whole body was shaking from pain. I could not go to the bathroom alone and had to call the company to help me. I could not move my legs," she added.
The volunteers of "תבל בצדק" (World Justice) came Monday to take the responsibility and even celebrated Hisorai's birthday at the hospital. The group learned that the caregiver was set to be released from the hospital although, there's no one to take care of her at home.
Tuesday morning came when Gorodn'tzik, who volunteered in the past year in Nepal within the framework of the "world justice" visited her at home. He discovered that Hisorai finds it difficult to even go to the bathroom. "I arrived at 8:30 in the morning. She was supposed to come to the clinic to replace her bandages. This is 100 meters, but she just could not go. Someone from the Nepali society helped her go to the bathroom. It took them five minutes, "said NRG. "I went to the clinic to ask the doctor to come over to her house. I told him she was a foreign citizen stabbed in the attack and that she only has to bring a bandage. His answer was that he did not make house calls for foreign workers."
At this point, he decided to bring Hisorai to the hospital by calling an ambulance. But, after they replaced her bandages, she was again informed that she will be released from the hospital. "I told them that she could not go to the bathroom and prepare her own food and that you can not release her. She can not sit up in bed and urinate by herself, " Gorodn'tzik said angered by the organization and that no government official has claimed responsibility for the caregiver even though she was victimized by a terrorist attack.
It's just sick to think that if someone in Israel had been injured in an attack but she's not a jew, we behave like that. Just today someone bathed her. They told her to fill in forms for victims of terror, but she does not know Hebrew," he said.
"She did not understand what was happening. She just do not understand Hebrew. No one explained to her what was happening, and also any insurance about medicines and bandages, "said Rachel Garber, also works in the" world justice ", who accompanied Hisorai in the last days. "I wondered what would happen If we were not in a hospital. It is simply irresponsible. How can you release someone from the hospital without knowing that there is someone to take care of her? Especially someone injured in a terrorist attack. How was she supposed to worry about getting a pension from the NII and be recognized when she is hospitalized. How some stranger in our country, someone who was injured in the attack and takes care of an elderly woman, and we do not try to help her as much as possible? It's just heartbreaking, "Rachel added.
Volunteers of the World Justice said that there is a confusion on who's going to monitor the treatment of the caregiver from now on, and that she finds it difficult to understand where her current medical condition contact. With the help of the social workers in Shaare Zedek, they'll try to find a solution for her condition. "I need a place to which is comfortable, and they can help me to go. I can not even make my own food," said Hisorai who also talked about her mental state after the attack. "Every time I think of it I feel afraid again. It makes me afraid all the time."
Shaare Zedek Medical Center commented: "The caregiver was properly handled and released after two days. She returned to the hospital because they did not get along with the agency. According to the request, instead of going on vacation as proposed to her, she preferred to stay at the home of her employer with her ​​friend to take care of her. She will also receive the financial proceeds of the vacation leave.
Photo courtesy of nrg.co.il
Signup and find caregivers now!
Read more about Local Events