iSavta Blog / Local Events / How To Make Sufganiyot for Hannukah
How To Make Sufganiyot for Hannukah
The iSavta Team | 12.11.2019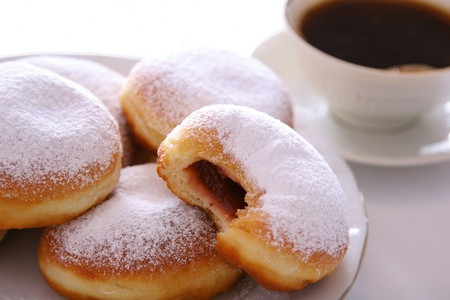 Celebrations are never complete without food, and Hanukkah is no exception. Because the spotlight of the celebration is the miracle of the burning oil, foods fried or baked in olive oil are on the centerpiece of the holiday. And because of Judith's heroism, cheese and dairy products became a central part of the Hanukkah celebrations.
Hanukkah 2017 will commence on the 12th of December, and end on the 20th of December.
Last year, we listed the food that Jewish people are eating during Hannukah. Taken from Marta Stewart's website of her recipes, this time, we will share with you the recipe and instructions on how to make the famous Sufganiyot!
Ingredients:
2 tbsp. active dry yeast
1/2 cup warm water
1/4 cup plus 1 tsp sugar, add more for rolling
2 large eggs
2 and 1/2 cups all purpose flour
2 tbsp unsalted butter, room temperature
1/2 tsp freshly grated nutmeg
2 tsp salt
3 cups vegetable oil
1 cup seedless raspberry jam
Directions:
In a small bowl, combine yeast, warm water, and 1 teaspoon sugar. Set aside until foamy, about 10 minutes.

Place flour in a large bowl. Make a well in the center; add eggs, yeast mixture, 1/4 cup sugar, butter, nutmeg, and salt. Using a wooden spoon, stir until a sticky dough forms. On a well-floured work surface, knead until dough is smooth, soft, and bounces back when poked with a finger, about 8 minutes (add more flour, if necessary). Place in an oiled bowl; cover with plastic wrap. Set in a warm place to rise until doubled, 1 to 1 1/2 hours.

On a lightly floured work surface, roll dough to 1/4-inch thickness. Using a 2 1/2-inch-round cutter or drinking glass, cut 20 rounds. Cover with plastic wrap; let rise 15 minutes.

In medium saucepan over medium heat, heat oil until a deep-frying thermometer registers 370 degrees. Using a slotted spoon, carefully slip 4 rounds into oil. Fry until golden, about 40 seconds. Turn doughnuts over; fry until golden on other side, another 40 seconds. Using a slotted spoon, transfer to a paper-towel-lined baking sheet. Roll in sugar while warm. Fry all dough, and roll in sugar.

Fill a pastry bag fitted with a #4 tip with jam. Using a wooden skewer or toothpick, make a hole in the side of each doughnut. Fit the pastry tip into a hole, pipe about 2 teaspoons jam into doughnut. Repeat with remaining doughnuts.
Hanukkah is a holiday celebrated to commemorate victories and miracles, and the food we prepare and enjoy on these days stands for the things most important to the victories won and the miracles witnessed centuries ago.
Celebrate victories, miracles, and most importantly, life, love and family on these Hanukkah days.
Signup and find caregivers now!
Read more about Local Events