iSavta Blog / Work Abroad / Illegal Recruitment: Identify Them. Avoid Them.
Illegal Recruitment: Identify Them. Avoid Them.
The iSavta Team | 12.11.2019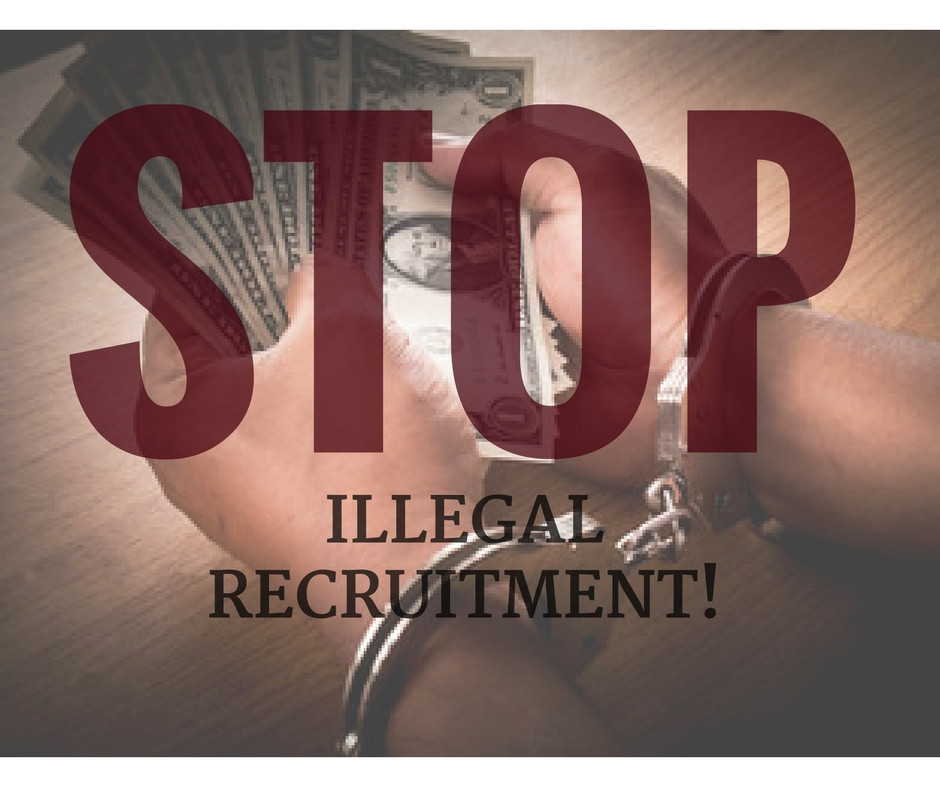 Many desperate Filipinos aim to go abroad to alleviate the depressing lives of their families. Some of them just wanted to get out of mess and chaos hoping that life somewhere else will be better than staying home.
But, some of them went through hell before realizing that their dreams of having a good life away from home are already in vain. These people are victims of Illegal Recruitment.
Despite of the significant effort of the POEA to combat these kind of modus operandi, there are still a lot of people who fell victims of this scams. Why?
Out of desperation, they tend to fall on the promises and easy-processing schemes. The moment they realized everything, it's already too late. Everything that they worked hard for, money wasted and time spent, it all went down the drain. Their agent is an Illegal Recruiter.
How To Identify An Illegal Recruiter:
Instantly asks for the placement and other fees without giving a valid receipt.

Promising an immediate or fast processing of your papers to go abroad.

Requiring medical examination and training without clear status of employer and contract.

Making transactions with applicants in public places like restaurant, shopping malls, etc. and not in the office of the licensed agency.

House to house recruitment of applicants.

Not giving enough information about the job you're applying for.

Promising a direct hire employment and applicants need not to go under POEA.

Promising a fast processing using a tourist or visit visa.

Cannot present a valid employment contract or working visa.

Pretending to be an employee of a licensed agency but cannot provide an ID.

Pretending to be connected to a licensed travel agency or training center.

Encouraging applicants to recommend or convince other potential applicants in exchange of faster processing and earlier flight.

Cannot disclose proper identification like full name and address.

Promising about submitting documents to POEA for processing.
How To Avoid Illegal Recruitment:
Do not apply at recruitment agencies not licensed by POEA.

Do not deal with licensed agencies without job orders.

Do not deal with any person who is not an authorized representative of a licensed agency.

Do not transact business outside the registered address of the agency. If recruitment is conducted in the province, check if the agency has a provincial recruitment authority.

Do not pay more than the allowed placement fee. It should be equivalent to one month salary, exclusive of documentation and processing costs.

Do not pay any placement fee unless you have a valid employment contract and an official receipt.

Do not be enticed by ads or brochures requiring you to reply to a Post Office (P.O.) Box, and to enclose payment for processing of papers.

Do not deal with training centers and travel agencies, which promise overseas employment.

Do not accept a tourist visa.

Do not deal with fixers.
May this help all those aspiring OFWs. Be very careful and vigilant in making transactions which involves recruitment, money and empty promises. Do not hesitate to investigate, ask, think twice if not 100 times before making a decision. Be knowledgeable. Ask questions.
Source: POEA
Every Cent Counts. Join the Remit Revolution Now!
Read more about Work Abroad