Another Extension for all Caregivers Until October 2021 Regardless of Visa Status.
Read more
Indicative List of Holidays & Vacations / Annual Leave for Filipino Workers in Israel for 2016
The iSavta Team | 12.11.2019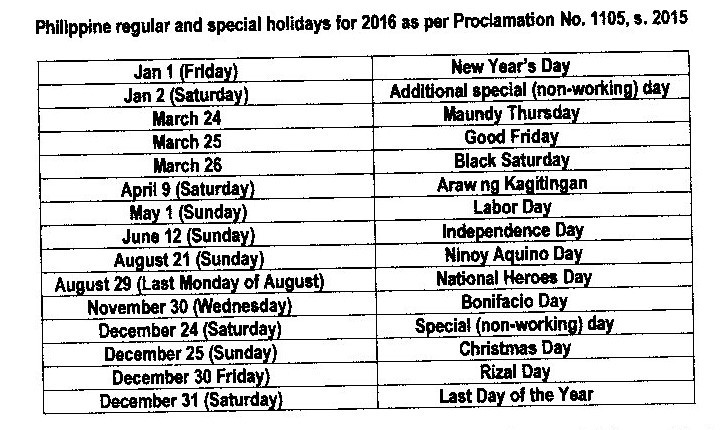 Happy New Year Everyone!
As we approach another year in Israel, we are again entitled to another set of Holidays, Vacations or Annual Leave which are of course, pursuant to Israeli Laws.
1. Religious Holidays
Pursuant to Israeli labor laws, foreign workers in Israel are entitled to paid religious holidays, totalling to nine (9) days a year. The holidays can be those of the worker's religion or the Jewish holidays, as the employee chooses. In view of the predominantly Christian religious orientation of Filipinos, they may choose, in concurrence with their employers, any of the nine (9) regular and special holidays in the Philippines listed on the photo attached.
In choosing the religious holidays, caregivers are advised to consult with their employers and to be considerate of the latter's need for uninterrupted attention and care. In case the employer's health situation would preclude a caregiver from taking four (4) consecutive holidays, it is advisable to schedule the worker's religious holidays in such a way as not to prejudice the well being and health of his/her employer.
2. Holiday on Rest Day. Israel law stated that a holiday is forfeited if it falls on rest day.
3. Pay for Work on Holiday. Israel labor laws also provide that caregivers who are made to work during holidays are entitled to receive payment of 150% of basic pay. Caregivers are entitled to at least 24 straight hours during holidays. (Example: If the caregiver leaves the residence of the employer at 6 p.m., he/she does not have to return before 6 p.m. the following day).
4. Vacation/Annual Leave
Under Israel Law, foreign workers are also entitled to paid vacation/annual leave, as follows:
For 1st to 4th year of employment -- 14 days a year
For 5th year of employment -- 16 days a year
For 6th year of employment -- 18 days a year
For 7th year (or more) of employment -- 21 days a year
The number of vacation days set out above are calendar days, which include weekends, and not work days. The employer and caregiver shall mutually agree on the dates when a caregiver can enjoy his/her paid vacation/annual leave.
Note: Please view the official page of the Philippine Embassy by clicking the link below:
INDICATIVE LIST OF HOLIDAYS & VACATIONS/ANNUAL LEAVE FOR FILIPINO WORKERS IN ISRAEL FOR 2016