Another Extension for all Caregivers Until October 2021 Regardless of Visa Status.
Read more
Kav Laoved on State Funds: DO NOT SIGN!
The iSavta Team | 12.11.2019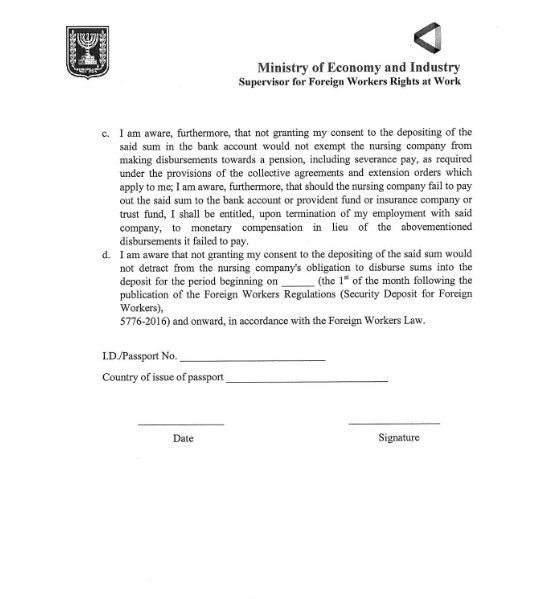 ***READ VERY CAREFULLY***
This is a copy of the paper the agencies ask you to sign. YOU DON'T HAVE TO SIGN this paper, even if you don't sign it, the bituach agency will continue to pay your salary as usual.

For more information about what this paper means, read this:
***IMPORTANT MESSAGE FOR ALL CAREGIVERS WHO RECIEVE SALARY FROM BITUACH AGENCY***

As we published before, starting November 1, all bituach agencies will deposit your pension and severance payments to a state fund that you will be able to withdraw only when you leave the country. if you stay here without a visa you will pay a fine, and if you stay longer than 8 months after your last job you loose all the money in the fund.

All the bituach agencies will ask you to sign a paper that you agree to deposit all the pension and severance payments they put aside BEFORE November 1 in this fund - YOU DON"T HAVE TO SIGN THIS PAPER. If you sign - all the money for the total period of work will be in the fund and if you stay in Israel without a visa you can loose some or all of it. If you don't sign - all the money you have until November 1 will be given to you from the agency when you leave your job and only the payments after November 1 will go to the fund.

In case your agency tells you you must sign and you don't want to sign - please let us know AND DON'T SIGN!
The above statement/paragraph were posted by Kav Laoved on their Facebook Page.
The delimma started when the law came out about depositing the funds of Migrant Caregivers to a state fund that they can only withdraw once they leave Israel. This is one way of controlling the illegal workers who are still in Israel despite of not having a valid working permit.
Kav Laoved on the other hand is trying their best to help the caregivers as much as possible. Series of announcement on Facebook was posted since November to remind all caregivers about this law.
If these law and announcement confuses you, you may call or visit Kav Laoved and ask everything that you need to ask. You can also ask your agency to clarify everything.
Goodluck