The iSavta Team | 13.11.2019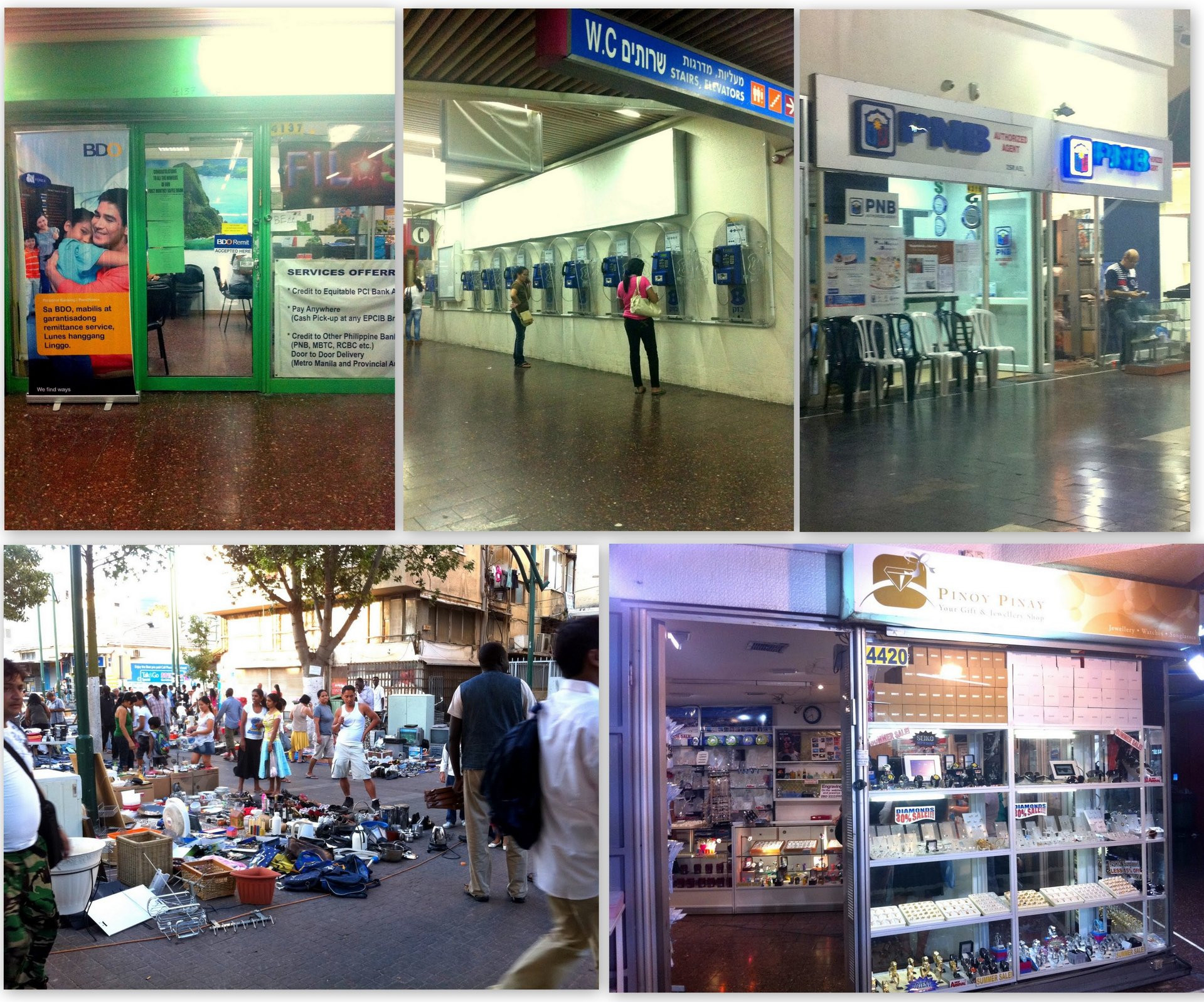 Let me take you to Tachana Merkazit (Central Bus Station).
For every Filipino living or working abroad, there's nothing more rewarding than experiencing "Pinas" from time to time. And here in Israel, there's nothing more Pinas-like than Tachana Merkazit here in Tel-Aviv. Though most of the local citizens deemed this place as the most unsafe/dangerous place in Israel, for us Filipinos (let's include the Chinese, Sudanese, Nepals and others) Tachana Merkazit is HOME.
Foreign Workers lives here including us Filipinos who enjoys our weekly day off from work. You can find significant numbers of Filipinos here during Fridays, Saturdays and Sundays. All came from a week of hard work being a caregiver and house caretakers. Going to this filthy place is heaven for us. This is a place where we are allowed to be who we are, typical Filipinos who eats pork barbecue with sawsawan or eat shomai and arroz caldo or Chowking-like Halo-Halo under the heat of a summer sun. A place where we can buyEskinol and Chinsansu, Mr. Chips and Boy Bawang, Safeguard and Creamsilk, even 555 Sardines and Lucky Me Pansit Canton. This is the place where we can enjoy a glimpse of the Philippines once a week, for 24 hours.
The pictures on this article are just some of the few stores and establishments that you will find inside the Central Bus Station. Majority of these stores are owned by a Filipino who became successful in putting up business here. From calling cards to cellphone loads, tokakanin and other basic necessities that a typical Filipino cannot live without. Honestly, Tachana Merkazit somehow reminds me not only of the Philippines but also of Bacolod, the city where I came from.
Let me give you a quick info about the pictures on the FIRST collage:
The first picture on the first collage is FilStar. This is where we send money to our love ones. They are affiliated to Banco De Oro so beneficiaries can receive the money in as fast as 2-5 minutes and cheaper than Western Union. This reminds me of ML Kwarta Padala Branches that you can find in every major streets in the Philippines.
The second is a long telephone booths inside the Central Bus Station. A silent witnesses to the tears, laughters and sweet i love you's from us who misses our love ones while the third picture is PNB Branch. It reminds me the PNB beside Capitol Lagoon in Bacolod. Here you can send money to Pinas too!
The next picture is a normal Saturday in Neve Shanan. A place where you can buy the things that you've bought before. Haha. I mean literally. This is where the thieves sell the things that they stole from poor people living in Tachana. So don't be surprised if you'll find your branded shirts and shoes scattered 'round here. hehe.
The last picture is Pinoy-Pinay. This is where you can find all the pasalubong and religious stuffs from Jerusalem. They also have a travel agency where you can purchase a plane ticket to Philippines both international and domestic flights.
Now, let's see what we have on the SECOND collage:
The first picture is obviously a McDonald's inside Tachana Merkazit. Since Filipinos cannot find Jollibee in Israel, they flocked to McDonald's for a quick fast food crave.
The second picture is Tia Maria. I wonder if it's still in Tachana nowadays. But, if you want to have a taste of pinoy food, Tia Maria is the place to be! So cheap but delicious!
Who says you can't eat puto, sapin-sapin, chicharon, leche flan and other kakanins in Israel? The third pic removes all doubts. Yes, it is regularly available in Tachana Merkazit.
Last but not the least, if you really want to feel Pinas, go to this place. This is where you can buy PORK! 'nuff said. And check the store's name. Kingdom of Pork Factory Price Here. Hhahahaa! Yeah.. Chinese!
So there you go. The filthy and crazy place called Tachana Merkazit. The home away from home for all Overseas Filipino Workers here in Israel.
So as a foreign worker in Israel, what do you hate the most in Tachana Merkazit? What are the reasons why you keep coming back to this place? Let us know!