Another Extension for all Caregivers Until October 2021 Regardless of Visa Status.
Read more
Tourism & Country Fair to showcase the best of the Philippines in Haifa's Castra Mall
The iSavta Team | 12.11.2019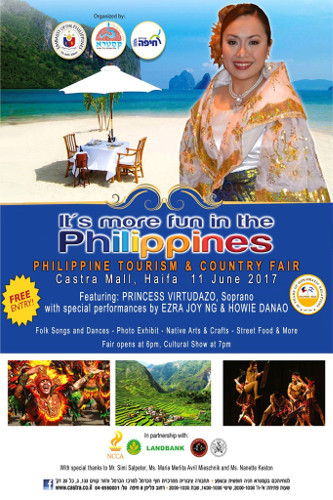 The Philippine Embassy, in collaboration with Castra Mall and the Haifa Municipality, will hold a Philippine Tourism and Country Fair on 11 June 2017 at the Castra Mall in Haifa.
The one-day event includes a tourism seminar for Israeli tour operators wishing to promote Philippine tourism and culture in Israel, a bazaar selling Philippine handicraft and souvenir items, and a cultural program featuring Filipino soprano singer Ms. Francis Anne "Princess" Virtudazo, who will be flying from Manila. Princess was the champion in the Opera Division and a gold medalist for Broadway and Open Categories of the World Championship of Performing Arts (WCOPA) 2015 in the USA.
The cultural program will likewise feature several talents from the Filipino community in Israel who won in prestigious competitions in music, such as Ms. Joy Ezra Ng, who won third place in the recently-concluded The Voice Israel, and Mr. Howie Joseph Danao, winner of KOKAV Tel Aviv 2016.
he event is part of the celebration this year of the 60th anniversary of the establishment of diplomatic relations between the Philippines and Israel. This auspicious occasion highlights the friendship between Filipinos and Israelis, which will be featured in an exhibit on the milestones of bilateral relations in the past six decades. An exhibit on Philippine tourism will also be on display at the Castra Mall.
Like in the past, the Philippine Fair in Haifa aims to bring Philippine tourism and culture closer to the people of Haifa, a sister city of Manila and where about 3,000 Filipino caregivers work. It is also part of the Embassy's intensive tourism campaign to sustain and further boost the significant increase of Israeli tourist arrivals to the Philippines. In 2016, there was a record 42.27% increase in Israeli tourist arrivals (a total of 16,725 Israeli tourists), which shows that more and more Israelis are discovering the Philippines as a tourism destination.
The Philippine Tourism and Country Fair will open at 6:00 PM on 11 June 2017 and is open to everyone. The cultural program starts at 7:00 PM.
The fair was organized with the support of the Philippine National Commission for Culture and the Arts (NCCA), Landbank of the Philippines, the Municipality of Haifa, Castra Mall, and partners from the private sector and individuals.
Source and Photo: Philippine Embassy Israel
Read more about Global Events