iSavta Blog / general info / "Who is behind iSavta?"
The iSavta Team | 12.11.2019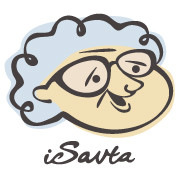 There are rumors and talks about who is behind the website www.isavta.co.il: "Find your next Job Online". So to give light to those rumors, here is a short and brief interview about the founder of the website.
Q: Let's talk about you, first. Please share something about yourself...
Granny, Lus and Granny's great-grandchild (representing Ariel…)
I'm Ariel, born and raised in Haifa. Married to Michal and father of 2 great kids. I am a former artillery officer in the Israeli army, a Computer science and MBA graduate from the Technion (the Technological institute of Israel). But the real self-definition is a basketball fanatic: still an active point guard in a competitive league, practice at least 4 times a week and very proud of my 2 years of college in the US where I was also a varsity basketball player.
Q: what motivated you to create the website?
My motivation was a very difficult situation with my Granny. She's now 98 years old, and has a caregiver for almost 20 years now. her situation became worse 12 years ago when she had 2 strokes. Since then she's very dependent and very angry with life. In light of this situation, we've replaced more than 100 caregivers for her. At a certain point i thought it would be great to have something online, instead of waiting for several days or weeks even for the agencies to bring us a carer. I had to wait a few years till caregivers started showing up with their own laptops. At this point iSavta was born.
Q: Why did you choose iSavta as a name?
I was looking for a name that would represent the connection between the new world of technology and the old world of, well, the elderly. Since everybody is so crazy with the "i family" (iPhone, iPad...) and since everybody knows the word Savta (Granny, but you know that, right?) the combination seemed funny. It was important for me to make the site light and happy, and for this reason we made the logo to look like the redbull ads TV.
Q: So you have a lot of experience dealing with caregivers?
You can say that. I've been working with many caregivers from the Philippines, India, Nepal, Sri Lanka, Russia, Ukraine, Moldova, Romania, Israel and even from Germany. I've been working closely with 6 agencies in parallel for quite some years, just to make sure we have someone when another replacement is needed. And since I've started the site i learn more every day about this special profession. My granny is not an easy person to take care.
Q: how do you define a good and bad caregiver?
In my opinion it's all about caring - if a caregiver really cares about the patient. Once he or she cares, everything else follows. Every person face difficulties, every person has their own great virtues but the key is caring.
Q: Do you remember somebody (caregivers) who has left a mark in your granny's life?
Of course, there was Lenny, the first caregiver who came to us 25 years ago. I was around 8 when she first came in, and I remember running away from her attempted hugs. Didn't like hugs and kisses as a kid... my granny, being much younger then became a friend of Lenny and helped her migrate to Canada. They were in touch for many years, but we haven't heard from her for a few years now. There was also Lus who is a very special person. She spent a lot of time with my granny in Hospitals, as during that time my granny had her strokes. Lus was with us for more than 3 years, and granny never really recovered from her departure. Lus visited us a few months ago, which made us all very happy.
Q: Can you give a brief summary of what the website is all about?
It's very simple - an online job board for employers and caregivers. Caregivers can save time and money, and choose from a variety of caregiving jobs all around Israel. Employers can save valuable time and fees. Both sides can control the process.
Q: Is the website according to the laws of Israel?
Of course, the content of the website is backed up by professional legal advisors. We connect employers and caregivers directly but we clearly state in the employers' and caregivers' interface that once a connection is made, both parties should sign up with a listed agency. Both parties should also make sure there are work permits and visas as required by law.
Q: is iSavta a manpower agency?
Nope, this is a privately owned online job board, and is not a manpower agency.
Q: The website is different from the usual manpower agency process. How do you propose to work with them to eliminate the conflict of interest?
Agencies are very happy to get more caregivers listed with them. We are open to everyone who wants to work with us, provided it is satisfactory for both parties because the bottom line of iSavta is to give the Caregivers some kind of freedom and an alternative option to look for a job. Some agencies have already understood that it's better to work together, and we are already working with some.
Q: how do you see iSavta a few years from now?
I think we'll cover more areas, also for people who are not seeking job at a given moment. We will soon have more content on the site, announcement boards for the different communities and more surprises to come. We want to make this a meeting point for all caregivers in Israel of any nationality to somehow make their life in Israel a little bit better.
Q: Tell me please, what is the worst and best experience you have with a caregiver?
The best experience was seeing Lus taking great care of my granny, in the most difficult time of her life.
Q: What would you like to say to the caregivers as a last word?
I think I can speak on behalf of the many people here in Israel, saying a big thank you is not enough for taking care of our elderly. It's a very difficult job and your patience is pretty much amazing. I hope the iSavta site can give a bit back to you.
Signup and find caregivers now!
Read more about general info