"Try and try untill you succeed...just don't give up..."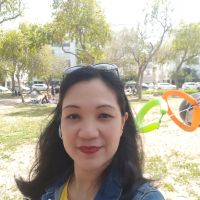 Lotis
Female, Philippines
About Me
I am Lotis from philipines. 8 years working as caregiver. I had the third vaccine for covid - 19. I am a very clean person and happy with a lot of passion for my work (highly recommended from my ex - employer's). I am lookin for a work that can permits "Humanitarian Visa" near TLV center. Pls contact me ONLY if you can transmit visa of "188% disability"
Skills and abilities
Cleaning
Cooking
Washing
Dressing
Lifting
Diapers
Caregiver details
Covid-19 fully vaccinated: Yes
Experience in years: 8
Work permit: Need handicapped visa - 8 to 13 years
- Open permit: can work at any caregiving job, according to the license zone
- Special / humanitarian visa: caregiver is in Israel less than 8 years, can work for one more employer legally, after submitting a request
- Special visa - handicapped: relevant for 188% disabled patients, under the retirement age
- After 13 years in Israel, caregiver can work only if they have an Israeli ID / permanent resident
- Refugee visa: can work as a domestic helper
Experience with specific conditions: Alzheimer's Disease, Breathing Problems, Broken Hip, Chemotherapy, Depression, Mobility Problems, Post Surgery, Pneumonia and the Flu, Vision Loss
Job types: Live In, Live Out, Night
License zone: Zone 1
Regions: Tel Aviv, Center
Hobbies: Musical. Movie. Walking in nature.
Age: 45
Education: Professional
Languages
Caregiver preferences
Preferred patient: Any
I'm ok with pets: Yes
I'm ok with smoking patients: Yes
I'm a smoker: No
References
Add Reference