iSavta Blog / Money & Investments / How To Withdraw Your "Pikadon" or Severance Pay and Pension When You Leave Israel For Good
How To Withdraw Your "Pikadon" or Severance Pay and Pension When You Leave Israel For Good
The iSavta Team | 12.11.2019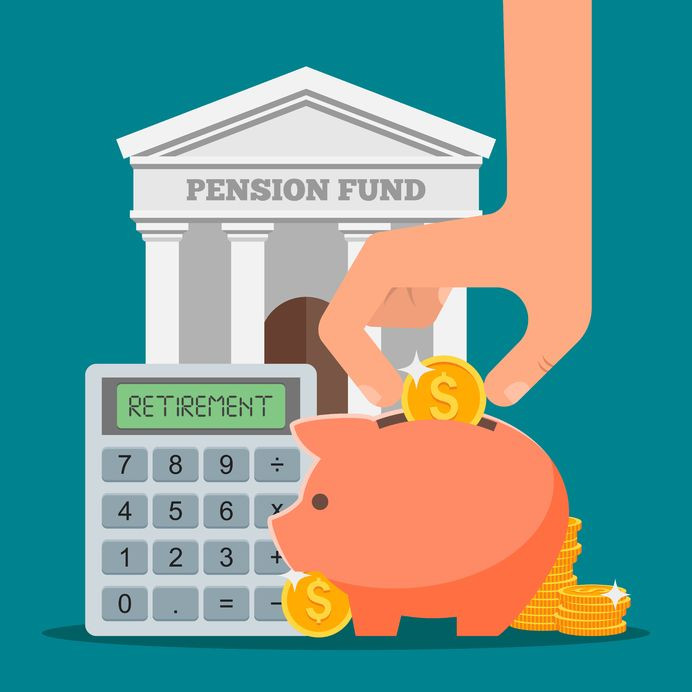 Those who were in Israel for 5 years or more and had several employers, they were able to enjoy their severance pay and pension for it was given to them by the time their employer died.
But, following this law that was implemented last November 2016 (New State Deposit Fund for Migrant Caregivers), all the amounts accrued to caregivers in the nursing agencies ("bituach" agencies) for severance and pension, for the working period from October 2016 and on, will be deposited in a state fund, supervised by the state of Israel. Caregivers will be able to withdraw the amount accrued for them in this fund only upon their departure, when they leave the country for good.
This law was initially agreed upon the Interior Ministry of Israel to prevent illegal migrant workers to hide and stay in Israel for as long as they won't get caught.
For those who wanted to go home for good, they will be able to get all their money if they will be able to follow the exact process on how to withdraw it.
Kav Laoved provided the step by step guide on how to withdraw your money when you leave Israel for good.
As you all know, Starting November 1, 2016, all the Bituach agencies started to deposit the Pension and Severance pay (pitzuim) for each worker in a special bank account called "Pikadon", where caregivers can withdraw their money only when they leave the country for good, without staying in Israel illegally.
If you wish to leave Israel for good and withdraw the money from your account, you MUST inform the Ministry Of Interior (Misrad Hapnim) at least 10 days before you plan to leave but not more than 30 days before, so they can provide you with a payment paper. Without this paper you can't get your money at the airport!!!
In order to receive your money, follow the 2 steps below -
When you already have a departure date or you plan on leaving Israel, send an email to the Immigration Authority (in Misrad Hapnim) to this address: Pikdonot@sa.piba.gov.il
In your email, write the following text:
My name is ___________ Passport number ___________. I work as a caregiver and For Mr. / Ms. ______________. I would like to know my "Pikadon" account number and the current balance in my account.

Regards,
_______________ (your name)

**Keep this information with you in case you need it in the future.
After you already have a flight ticket, send another email to the same address (Pikdonot@sa.piba.gov.il), and attach:
* Page 1 below, after you filled all the information in this page
* A copy of the flight ticket
* A copy of your passport
*** If you choose to get your money through a bank transfer to your bank account in your home country (not in Israel), attach also page 2, after you filled it.
Note: if you already left the country and for some reason forgot or couldn't withdraw you money, you can still follow step 2 and send all the papers by email, including page 2 so you can your money through a bank transfer to your account in your home country.
GOOD LUCK!!!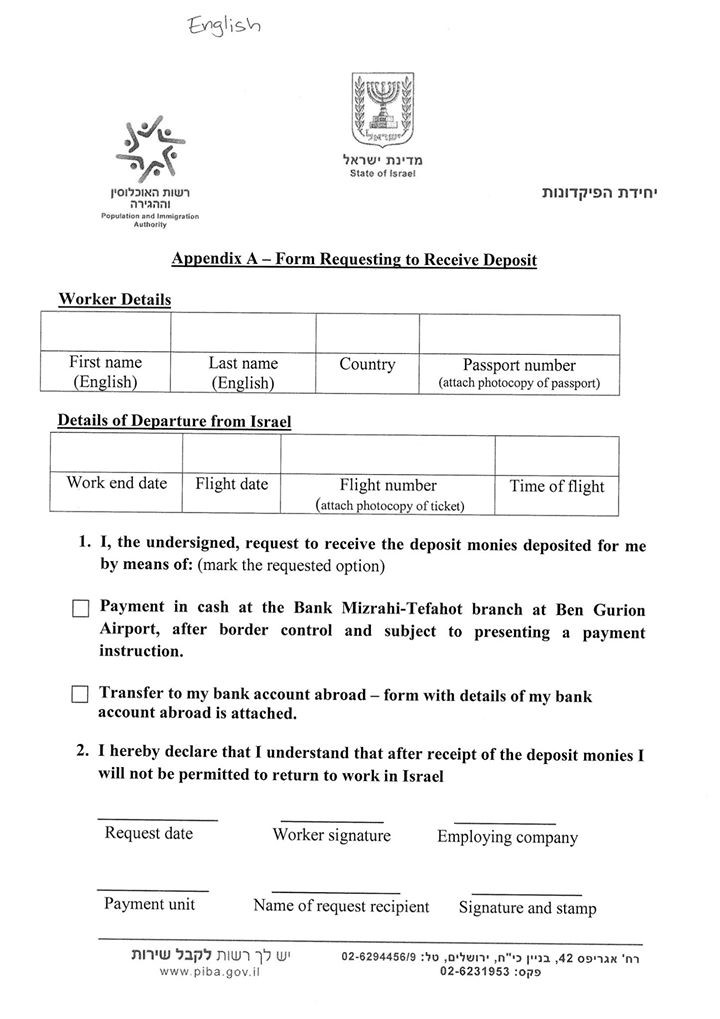 For more inquiries, contact Kav Laoved on their facebook page or go directly to their office.
Read more about Money & Investments